News
Welcome to Katherine G. Houghton Law's press page. The ever-changing world of law allows for many questions to arise. How will the changes affect you or your business? In order to speak with an attorney about specific areas of law or topic please contact the Law Offices of Katherine G. Houghton. You will also find our latest news releases, speaking engagements and publications below.
Law Journal Article
Justices Asked To Fashion Remedy For 'Preconception' Negligence
By Michael Booth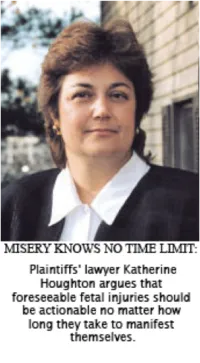 At oral arguments Tuesday, a plaintiffs' lawyer asked the state Supreme Court to grant a child unborn and unconceived at the time of an auto collision the right to sue over birth defects attributable to his mother's injuries, even though the mother settled her case against the other driver years earlier.
"The nonpresence of the victim at the time of the accident is not dispositive," argued Katherine Houghton. The Paramus solo practitioner urged the justices to overrule the Appellate Division's refusal to recognize a separate duty owed by tortfeasors to future generations.
The vexing issue for the justices is not so much the foreseeability of accident related birth defects as it is the indefinite tolling of the statute of limitations that would result. At the very least, tolling would extend until a new plaintiff comes into being and until the birth defect and its cause are manifest. It might logically extend to other children.
Houghton represents Christine Taylor, who was injured in a July 29, 1982, auto collision with another vehicle, suffering four pelvic fractures and a resulting pelvic deformity. Taylor and her husband, Sherman, settled with Frances Cutler, the driver of the other car, for $250,000 and signed a general release.
Since then, though, Taylor has been hospitalized more than 25 times and has undergone more than 15 surgical procedures as well as orthopedic or neurological treatment. On Nov. 29, 1989, she gave birth to a son, James, by Caesarean delivery because of her pelvic condition.
In August 1992, doctors discovered that James had permanent head and facial damage, known as craniosynostosis. His cranial sutures closed improperly because, while in utero, his head rested against his mother's fractured pelvic bones.
The condition affects the functioning of James' eyes and ears. He has had eye surgery and his parents have incurred more than $12,356 in out-of-pocket medical expenses. Because James is only 9 years old, he is too young to undergo plastic surgery for his facial deformity, his parents assert.
Cutler's actions contributed to James' condition and she should be held accountable, Houghton argued to the Court.
Justice James Coleman Jr. posed the hypothetical of a 17-year-old girl involved in an accident that was not her fault and then having a child at age 40 with birth defects attributable to the accident. Could the at-fault driver still be held liable?
"Absolutely," said Houghton. "Why dismiss the case because of time delay if the victim's misery is caused by the defendant?"
Justice Daniel O'Hern said courts are called on to draw a line somewhere, and there should be some sense of finality.
Said Houghton: "What happened to an innocent victim's interests? Should not the interests of the victim survive that test?"
Justice Alan Handler said it seemed to him that if the Court went along with Houghton's arguments, the window for plaintiffs to file suit would be "virtually limitless."
Replied Houghton: "This is not so bizarre or extraordinary. The Court has the opportunity now to set public policy and protect future children."
Cutler's lawyer, Karen Cassidy, urged the Court to uphold the Appellate Division. "Anything is foreseeable," she said. "The Court has to draw a line somewhere."
No legitimate public interest would be served by having no time bar to filing claims. "Liability could be endless," she said. "I fear if the line is drawn so far down the line that plaintiffs' lawyers will take that language and take the concept and begin to apply it to other scenarios."
Justice Gary Stein asked Cassidy, a partner at Roseland's Connell, Foley & Geiser, where she would draw the line in this case.
"As long as the woman is not pregnant at the time … subsequent children would not be able to make a claim."
The case is Taylor v. Cutler, A-165-97. n
NEW JERSEY LAW JOURNAL
DECEMBER 7, 1998